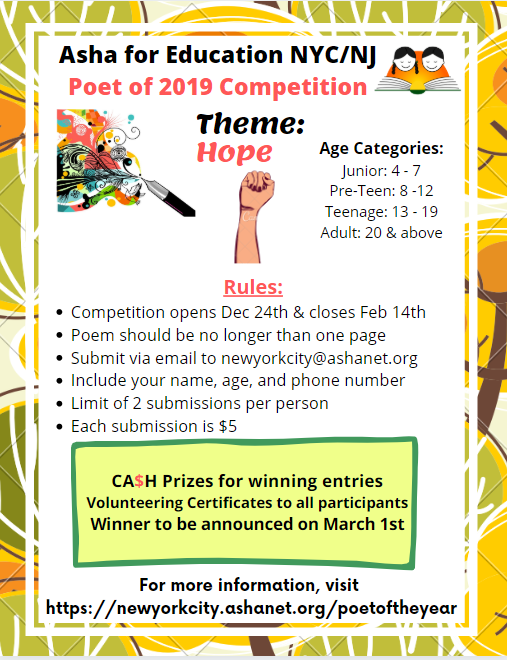 Poet of the Year 2019 – WINNING ENTRY
Asha for Education New York
 chapter is hosting an online poetry event open to anyone and allows people to showcase their creativity and help a noble cause. All proceeds from this event will go towards helping underprivileged children in India gain proper education and access to textbooks. 
Poem Submission Rules:
Theme is "Hope"

Entries should be submitted from December 24, 2019 to February 14, 2020

Poems should not be longer than one page

Name, age, and phone number of the participant should be included with the poem so it can be categorized into the following age categories:

Junior: 4 – 7

Pre-Teen: 8 – 12

Teenage: 13 – 19

Adult: 20 & above

Maximum of 2 submissions per person

Poem should be submitted via email to

newyorkcity@ashanet.org

 

Participant Registration Link

 should be filled out with participant registration fee at

http://donate.ashanet.org/event/?e=1309

Poem submission is not considered complete until after you fill our Participant Information Link

Each submission costs $5
Winners and Awards:
Winners will be announced on March 1, 2020

There will be three winners from each age category

Junior: 4 – 7

Pre-Teen: 8 – 12

Teenage: 13 – 19

Adult: 20 & above

Winners will receive certificates
Sponsorship Information:
Sponsors for this event are most welcome!

Sponsors should fill out the link below along with the money form

Contact: Sharda Sheshabhattar @ 732-491-7555 and Manoj Khabe @ 571-426-42; Or Email newyorkcity@ashanet.org
For more information Contact: 
Sharda Sheshabhattar @ 732-491-7555  or Manoj Khabe @ 571-426-4200
Please Stay Connected with Us on Facebook by Liking our Page at Click here
This fundraising event is organized by the NewYorkCity Chapter of Asha for Education.
All net proceeds go towards education projects for underprivileged children in India.